View
Birdsville 09
in a larger map
Tailwinds to Birdsville and Back
I hadn't intended to go to the Birdsville Races this year, but on the Friday before, I got to wondering how the weather was going to work out for those who were going. (ps- That's the wing of my aircraft right at the beginning of this Birdsville Races video news clip!) This time of year in southern Queensland, and in particular Birdsville area, it's either a strong northerly or a howling southwesterly, and it alternates between the two conditions. If the timing is wrong, it can be a real uphill battle both ways for those traveling east-west from SE Qld. But the Forecast Wind weather site showed just the right combo this time, with a good tailwind going west on the Wednesday before the Races, and a SW change coming through late Thursday. That looked just great, so I just had to go and ride the tailwind…. Some quick changes in work plans and a new message on the answering machine, "….Gone to Birdsville, prob'ly back Sunday...." Lots of work that needed to be done right here, but I'll catch up when I get back….

This is all the gear I carry:
5 litres water bags, food bag, cooking utensils and alcohol stove, clothing in red bag, tent, matress and sleeping bag.
That's my little Beaver ultralight hanging up in the roof, retired for now.
Departed Kilcoy airfield late Tuesday afternoon to avoid the morning fog that can sit there 'til mid-morning this time of year. Nice tailwind to Miles, and camped just before sundown, with that excited feeling of another adventure on the way. Sure glad I had decided to go; life is just too short to miss out on opportunities for adventure! Gotta keep priorities in line…..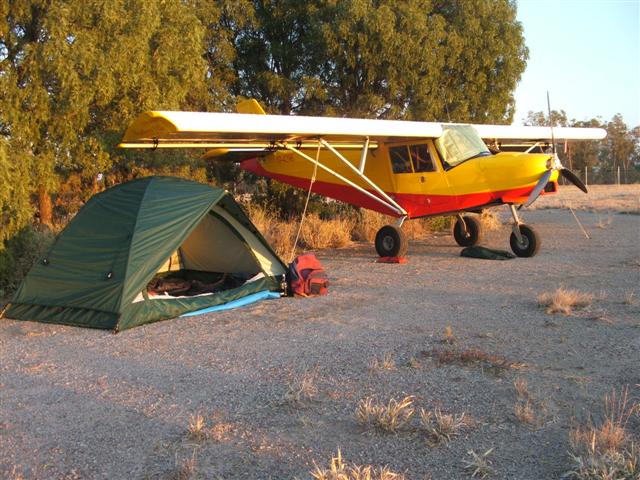 First night camp. Exciting to be on the move!
Long day Wednesday, 8.7 hrs…., but with a good tailwind. Stop at Charleville for fuel, Quilpie for a nap, then on toward a range of hills over the South Australian border where I hope to land off-field and have a look at some caves that I noticed on a previous flight, (and an excuse to try an off-field landing in a challenging spot…...)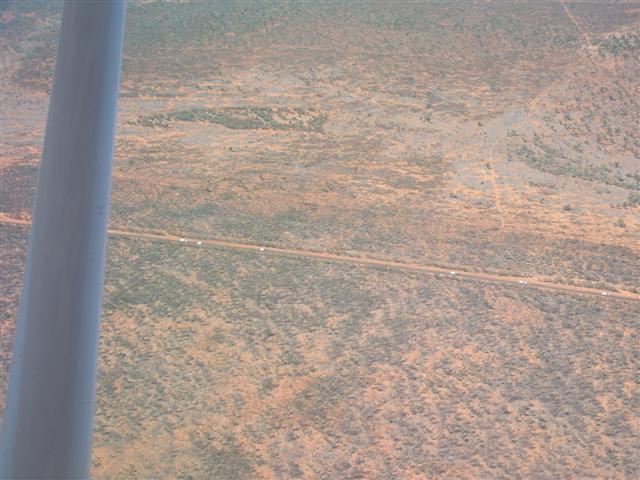 'Grey Nomads' towing their 'houses' to Birdsville.

I have the extra fuel tanks, so tremendous range now (+600 nm). But the outside tanks don't have gauges, so I run them empty first, depending on time and the warning light on the reserve tank. As the time is nearing I frequently check the test for the warning light, and this time it only flickered weakly….. Unscrewed the bezel to check the seating of the bulb, which is a common problem, and it promptly jumped out and fell to the floor….. Couldn't find it anywhere… So I switched over to the main tanks right away. Fortunately, I knew of an old airstrip nearby at a bore (water well) along the 'shore' of the dry clay pan named Lake Yama Yama. The strip barely shows up now, having been just a grader strip long ago, and now disused for many years and covered with drifting sand. Just right for an 'adventure' landing. Only a bit rough, with dry cow pats as hard as rocks. Found the bulb and replaced it, and made a note to do a more dependable mod….
On to the west, and found the range of hills again, and even the caves. Very stony country, lots of circling around looking for a suitable landing site…. And that's a very tense time in this sort of situation. It's the precautionary assessment that makes or breaks an off-field landing like this….. And this is very different from the landings you see on U-Tube, where they're using a known landing spot on a river bar or hilltop, with someone on the ground already and a video camera set up. In this case I've never been on the ground to assess the hazards. There's no good indication of wind on the ground, just circling at constant airspeed and watching the GPS. It's difficult to assess the slope from above. Hard to assess the roughness of the ground, and you can bet it's always rougher than it looks! This was a lot rougher than I had wanted, and the slope wasn't as much uphill as I had wanted so the roll (bouncing around) was longer than wanted, but fortunately didn't break anything….. The rocks themselves were harsh but do-able with these large tires, but there were dips in the ground that I hadn't seen. Dropping a nosewheel into one of those dips could have done the prop…. Got away with it this time, but a good sobering lesson for next time….
The rough and rocky landing site...
A couple of the caves were excellent for living in, but no sign now of previous human inhabitants, just roo droppings. Didn't go crawling in there due to a previous experience of finding hordes of hungry fleas in a cave where animals had slept….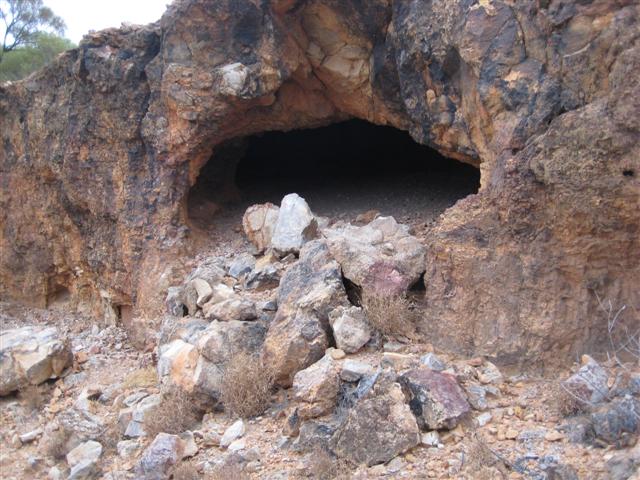 Walking around it was so much easier to choose a better take-off strip. Found a smooth 50 metres, downhill and into wind, with a clear departure. Warm up extra well, one last double-check, then blast off and away, no problems. Wa-hoo!

The take-off strip, 50 metres, downhill, easy.
Even tho I often land in pretty remote spots, I always have a plan of action to get help if it goes wrong…. Six miles away I crossed the road that I had noted on the map, and was pleased to see a couple of 4WDs making their way along it. That road was my back-up this time, and it was good to see it in use. I usually travel alone on these adventures, so I'm completely dependant on my own resources, and so have to be very attentive of the possible consequences. Even in areas that are seemingly remote to us, this is someone local's 'patch', whether they be graziers, road workers, or gas field crews, and they know how to move around it competently. I always have at least one plan available to access help from locals, and carry several hundred dollars in cash to pay for their services if necessary. They're very hospitable in those parts, but I don't expect them to give the time and vehicles to assist me, while I'm just out there playing around. There are also a lot of recreational 4WDs out here this time of year, on their own outback adventure trips, and most of them are well-equipped and competent. Every vehicle out here is equipped with UHF CB radio. I have UHF in the aircraft and keep it on scan in order to keep track of which channels are active, and a hand-held to carry if I have to walk. I'm a good strong walker, and have a lot of experience finding my way around the 'bush', which is so much easier these days with good maps and a GPS. This is assuming I'm still able to walk, and the chances are pretty good in such a sturdy aircraft that lands at 30 kts. Most likely problem would be a collapsed landing gear or a busted prop…. The next back-up in the plan of action would be to call on the VHF area frequency to try to contact a high-flying aircraft somewhere, and ask them to contact the nearest police and tell them the situation. The very last option would be to activate my ELB, and put in action all the official rescue squad that entails……
It'd gone cloudy overnight and I had to dodge showers to get to Birdsville. Only one other aircraft already here, so got a campsite as close to facilities as possible and set up camp. Carried fuel, and I do mean carried….. There's a service station right across the street from the airfield, and I can usually park right inside the fence and just carry fuel across the street, but for this event that gate was locked so I had to carry that heavy jerry can a l-o-n-g way to the aircraft camping area …. Sure wish I'd brought along my bicycle which is set up to carry the jerrycan, but didn't think it would be much use out here …. I generally prefer Premium Unleaded to Avgas, but especially so in this case. The mogas was $1.50/litre, while the Avgas was $2.50! So, for the 22 liters in each jerrycan, that was a saving of $22 each carry – not bad wages. Seven trips adds up to a saving of $154 just for that one fill-up, so it's sure good to be able to run on mogas…
This was still only Thursday, so not much happening yet. So I flew on to Poppell's Corner, where Queensland, South Australia and the Northern Territory all meet. There's a large dry salt lake there that I wanted to land on. I had landed and camped a night out there in'96 when I was flying the little Beaver ultralight, and now wanted to have a go with this aircraft. The flight out there follows the track that 4WDs and motorbikes use for their adventure crossing of the Simpson Desert. At this time there were lots of them coming from the west, timing their trips to be at Birdsville for the races. A whole bunch of them at 'Big Red', the highest sand dune along the way, each waiting their turn to tackle the challenge. The track runs due east-west and the dunes run pretty much north-south, so there are about 700 dunes to cross over on that trip. A friend had recently rode that track on a motorbike with no 4WD support, so carrying a heavy load of fuel and water on a bike, up and over all those soft sand dunes, would have been a grueling job…. Sure is nice to have a real 'high-clearance' off-road vehicle for my trip - 1000 ft is just about right!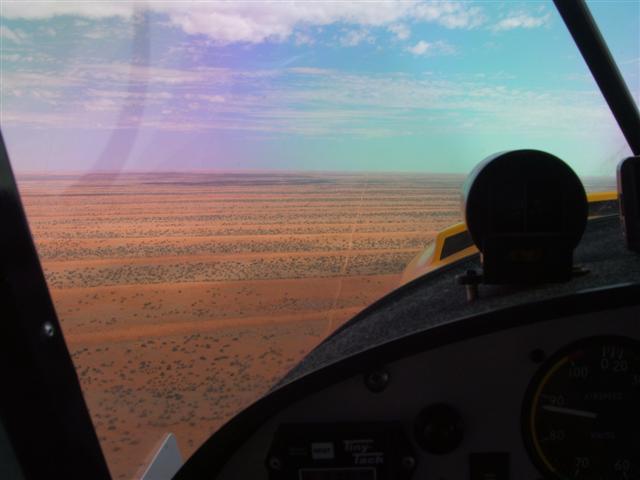 The track into Poppels Corner
Dry salt lakes are a special challenge for off-field landings. 'Dry' is the key word here. If they are indeed dry and hard, then they're excellent landing grounds. But if they've been flooded recently, the surface may look dry, but underneath is the consistency of custard – just a bottomless gooey muck…. It's very hard to tell by just flying over the surface, and has caught several aircraft badly… There'd been flood rains earlier in the year, with water still lying in the troughs between dunes not far away, but in this case I could see that it was solid by the wheel tracks of 4WDs that had been crossing it recently. The safest option is usually to land on vehicle tracks, but I wanted to check out the surface to learn for another time when there may not be any tracks. So I made a run at 55 kts and touched the surface and away again, just to see what it feels like. There was a real 'grab' as the wheels touched the soft surface, but with this speed I was able to lift off and fly away again. It's very important when doing this sort of touch- and-go on a surface that may be soft, to do it with plenty of speed, and gently. If you do it slowly at close to landing speed, the deceleration will instantly slow you to below landing speed, and you then will have landed whether you wanted to or not, and may be stuck there….. I circled around to look at my tracks and saw that they left quite an impression in the surface but it looked dry underneath. The drag felt on touch-down would make for a short landing, but would I get enough speed for take-off??? So I played it safe and landed on the vehicle track, which was hard and smooth – a piece of cake. Walking over the 'lake' surface showed that it was that typical surface when a salt lake dries out, with a soft, almost 'fluffy', crust of sand and salt. Underneath was dry and hard enough. So for take-off I tried the untouched surface, and with all this power and a good STOL wing it was no problem at all, only about a 4 second roll. Wa-hoo!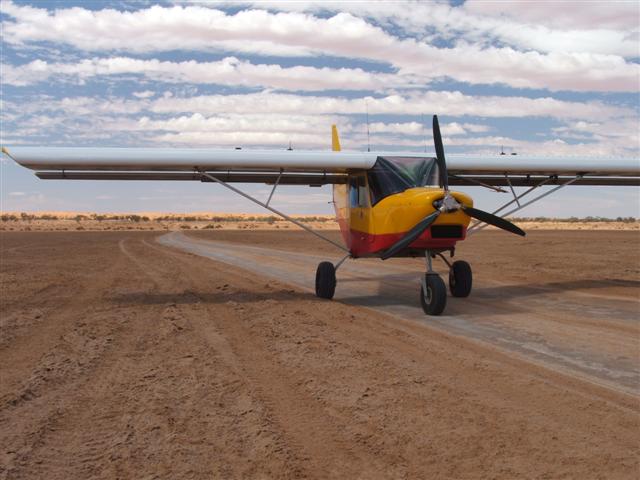 Landed at Poppels Corner
There were several 4WDs parked over at the corner marker, and a couple more came through while I was on the ground, so this was a good chance for an off-field adventure landing, with convenient back-up if something went wrong.
That surface turned out to be an excellent landing strip, but I'd still be very wary of landing on another 'dry' salt lake with no recent vehicle tracks to give good guidance. I once landed my light little Beaver ultralight on Lake Eyre many years ago. But to do that I first landed on the shore, and then by the light of a bright full moon walked fast for 4 hours out toward the middle. I kept encountering soft muddy sections and had to divert way around them until I came to a large area of thick salt as hard as concrete. I had my GPS with me and marked that spot. Next morning I flew out and landed exactly on that same hard area. With all those treacherous soft areas, and not a good indication from the air, this was the only way to do a safe landing out there. A couple of years ago, my friend in a 701, contrary to strong advise, just had to try a touch-and-go on Lake Eyre. He had another aircraft flying watch over him and watching the tracks he made. All went well, with just shallow tracks, until the wheels broke through into the muck, then he felt like he was being sucked right down! Full bore with 100hp and a long struggle before the wheels finally broke free and he was away, spattered with mud and very much relieved…… A notation in a guide book on Lake Eyre comes to mind – telling of a Cessna that landed out there many years ago, ".…now it's just a small salt-encrusted island….." And that's the sad result – no way to salvage an aircraft without a heavy-lift chopper, because there's no way to get rescue vehicles out on that surface.
Lesson – Don't be tempted by even a touch-and go on Lake Eyre or similar surfaces!!!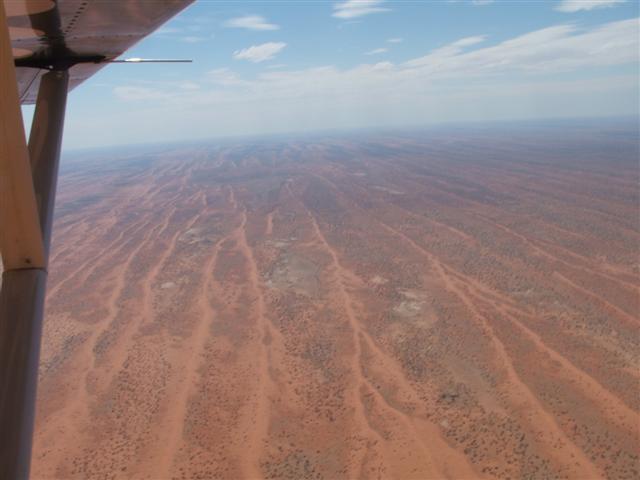 The Simpson Desert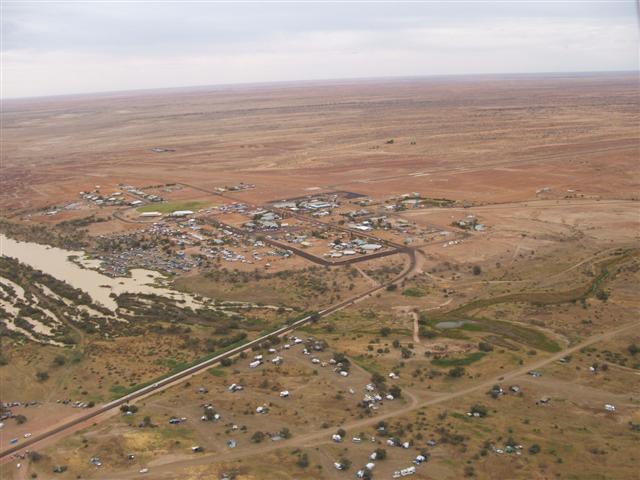 Campers around Birdsville
Meanwhile, back at the Birdsville Races….. I've never actually gone out to the race track at Birdsville, 'cause I can't find any interest at all in horse racing. And I wasn't the only one, 'cause the pub was full all of the time…. It seems that most go out there just to 'cut loose' and raise a bit of heck. And if they can't 'cut loose' out there then where can they, eh??? The carry-on is well-tolerated by the police and officials. Despite the vast quantities of alcohol, and some pretty 'rough and ready' characters, there was no violence and abuse, just lots of good-natured hee-haw. And what a range of characters! Some well-dressed and manicured, normally very formally mannered, big city gentry, flown in on chartered aircraft and there to let their hair down and 'cut loose', with no one to take note and criticize them…. Rawhide ringers (cowboys) from local stations (ranches), taking a break from the annual muster (round-up), and seeming a bit overwhelmed by the vast crowds that had taken over their normally very quiet little town…. Road workers and crews from the remote gas fields, no-nonsense hard-working men with work boots and sun burnt necks. Hordes of 4WDrivers on their big outback adventure, taking a break from bashing over rough tracks and sand dunes. Flocks of 'grey nomads', retired couples towing their 'houses' all around the country. Everyone enjoying the scene in their own way, and no one interfering with anyone else's way. The whole street in front of the pub was littered with empty tinnies (beer cans). Kids delighted in kicking cans and jumping on them. At sundown on Thursday the predicted wind change from hot northerly to cool southerly, blasted through with a cloud of dust and flying sand. The empty beer cans that weren't already squashed flat, went tinkling down the street……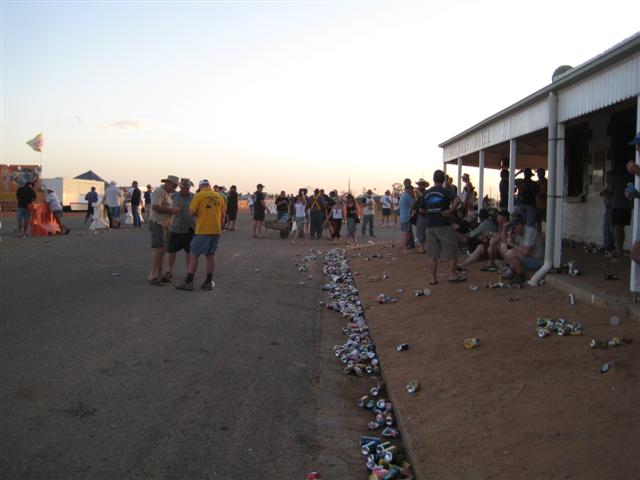 This was on Thursday, with a small crowd only.
The dust cloud coming with the wind change.
Then it was time to head for Fred Brophy's Boxing Tent. This is the last of the old time boxing troupes still in business, 4th generation now. He brings several rough and ready boxers with him, and invites all comers to step up and have fight with them. Fred Brophy is a real pro showman, with a great banter, and lots of pounding a big base drum and ringing the bell to build up the excitement. As he says, "… This is your chance to gain a reputation…. If you win you get $20 for each minute, if you lose you get the experience. …"
Boxing Tent before the crowd.
Everyone knows that you do have to front up early to get a good seat. So there was soon a big crowd pressing around the entrance, and confined there until opening time. A spruiker took the opportunity to present a raffle to the confined crowd. The cause was for the local primary school (only 8 kids) who were planning in a few days to go on a school excursion to Canberra and the Snowy Mtns. They had planned to slog it on a bus, but that's an awfully l-o-n-g way, so his spiel was, "…Let's get those kids an airplane ride…" Of course that hit the hearts of the crowd and the money just poured in, so I reckon they'll get their airplane ride. Real heart-warming stuff….
More pounding the big base drum, until he had enough willing challengers up on the plank. And then a request for a female to fight the female boxer called the 'Crakow Jawbreaker'. A petit young lady from Innaminka stepped right up. Brophy asker her if she'd had any boxing experience. When she said none at all, he said, "well, good luck..…"
Finally inside the tent, and crowded around the canvas 'ring' laid out on the dirt. Brophy referees a very tight show, with careful attention to fair play, and preventing injuries. First event was two local Aboriginal boys, friends who had agreed to box each other. They were very small, and the big boxing gloves meant they couldn't really hurt each other. They really got into the spirit and swung a lot of wild punches, ending in a draw of course. After their fight, he spread a towel in the ring and invited the audience to throw some money on it for the boys. It counted up to $410! That'll be a fortune for those little fellas. A couple of ringers from Mt Leonard station put up really good fights against those formidable opponents. Brophy's female boxer had lots of weight, size and experience on her side, but the lightweight Innaminka girl never flinched or backed of. Of course they couldn't beat the pro's, who had training and experience, and know how to cover up and not get hit, but all those volunteers were really game, and earned life-time reputations for their courage. Not many can say they've faced up to a formidable challenge like that, and in front of an audience…. All in good fun. Later I saw several of them drinking beer together and laughing about it all.
Up early the next morning, and not a soul, or a beer can, to be seen anywhere. A strange feeling - as if yesterday was all just a dream…….. The 'souls' were still in bed suffering sore heads, and the beer cans had all been swept up by council workers in the night.
Telstra had a temporary NextG network set up, so I could get the Forecast Wind on the laptop. The hoped for south-westerly didn't last, and by Sunday it would be back to NE, so I headed for home on Saturday. Absolutely spectacular early morning flying low across sand dunes and wide open plains (not below 500 ft of course…). Saw lots of roos, cattle, wild horses, and millions of birds around the small lakes still felt from the earlier wet season. Stopped for a meat pie at Noccundra Pub, taxi right up to the back of the pub. On to Eulo, with the long, red dirt strip right across the road from the service station so I could get a couple of jerry cans of fuel. Then on across that big belt of continuous mulga forest. Flying 7500ft to have a good chance to glide to a landing spot if needed. Sure is nice and smooth up there, but boring 'cause can't see much detail on the ground, and the ground seems to go by so slowly…. Finally landed at Surat, 7.4 hrs today, that's enough sitting still for any day…. The airstrip is right on the edge of town, so an easy walk into the pub for an excellent meal of local beef. Next morning, breakfast in the park at a Father's Day market, then home to Kilcoy.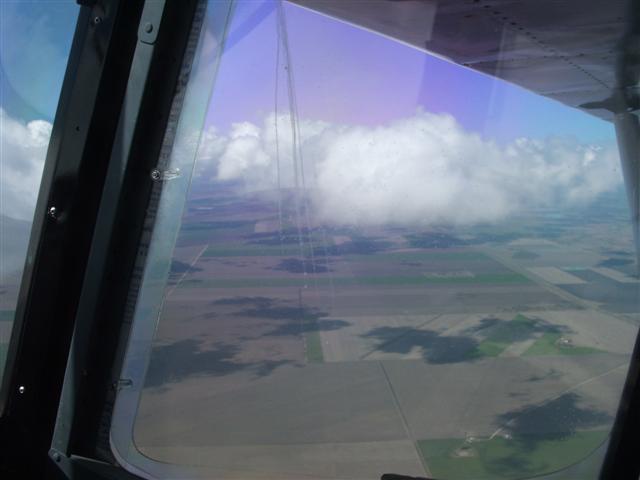 Back over the green coastal strip of this wide brown land.
22 hrs round trip. A memorable adventure in just a few days! Now I'm dashing around to catch up on work undone, but with a head full of precious memories that will last the rest of my life – good value I reckon!
John Gilpin
8 Sept 09