Jan 09 - My First Flight 2009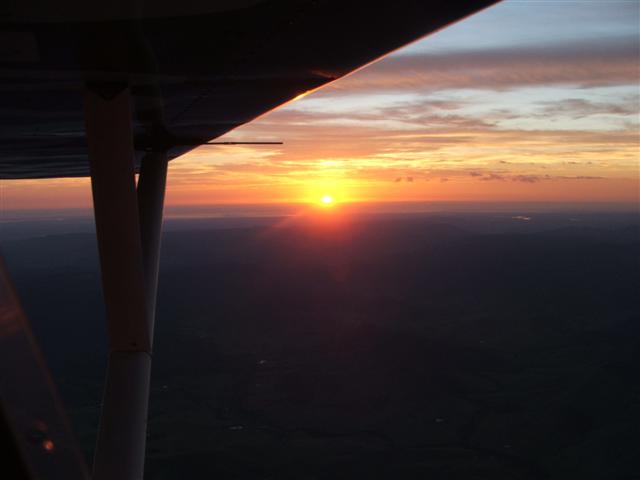 01/01/2009
My aircraft was fuelled and pre-flighted late yesterday afternoon, and now I eagerly awaited first light at Kilcoy airfield, for my first flight of 2009. Took off at 0435 EST and climbed quickly to 4900 QNH, and was pleased to find that I had beat the sun to that altitude. Throttled back to slow cruise and waited for the earth to turn.
At 0452 the sun's disc peeped over the horizon, reflecting off the distant sea. I was probably the first in Australia to see it, outside of maybe a higher flying jet! With just enough power to maintain altitude, it was quiet and smooth, and felt like being suspended in space, as I watched the yellow light flood out across the land. First the tops of the mountains, then the hilltops, and finally the flats. When it had reached the airfield below, I switched off the engine and began a glide descent.....
Now it was really quiet, with just the swish of the air going by. Set up for a best glide descent at 50 kts, giving a descent rate of 650 fpm, the aircraft was steady and balanced. Called my intentions of a "practice engine-out approach" on the radio, but of course no one awake at that time of morning..... Descended in a spiral orbit, always keeping my chosen landing spot in sight at a safe angle. Approaching circuit height another call on the radio and a really good look around for stray no-radio aircraft. Set up high for a secure base and final, then a big slip down to a 'greaser' right on my chosen target! Rolled to a stop, and just sat there for awhile, the silence still 'ringing' in my ears, the whole magnificent flight already feeling like a surreal dream.......
What a memorable start to the New Year 2009!
Wa-hoooooooo!
Wishing you some great flights in 2009.
JohnG
ps - The ground wasn't really as dark as it shows in the sunrise photo. The camera exposed on the bright sun, making the dramatic effect.
........................................................................................................