This was my very first long distance flight by ultralight, and the most thrilling of all!

Beaver to Birdsville and Back

Sept 1995

The familiar valleys were now behind, and the countryside below opened out into the broad fields of the Darling Downs. The low cloud was rising and the sun was breaking through as I left the coastal ranges behind and headed west. This was starting to feel like an adventure and so it should be was headed for a Birdsville!

Finally it was actually happening. This is the sort of flying in that I'd been working toward ever since starting training. It had taken years longer and there were a lot more obstacles than I'd figured but at last the aircraft was ready and I was ready and we were away! The Rotax 447 driving the big three-blade Brolga prop at 3:1 through a C-box purred as smooth as a turbine. I had five hours of fuel, a 'comfort'bottle, a water bottle, some meusli bars and a tailwind - next stop Roma.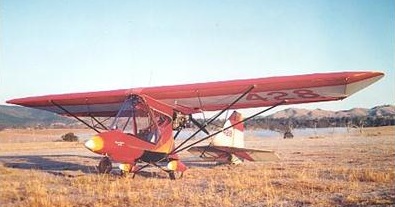 My aircraft is a single-seat Beaver, and it's just perfect for the coming adventure. It first flew in 1984 and the original owner Jim Sloan of Wangaratta had a lot of fun putting 600 hours on it. I did a complete strip down and overhaul, replaced the 277 with a 447, added bigger wheels, brakes, steerable nosewheel, and generally fitted out for traveling the outback. That included adding two 20 litre jerry cans as extra fuel tanks. They sit right on the C of G , and are secured with specially made straps that can be unbuckled to carry them to a petrol station - it works great.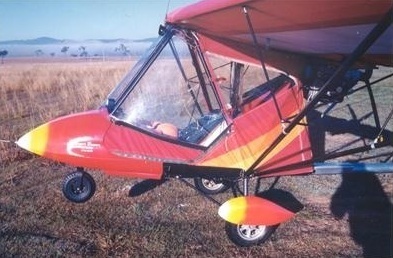 The aircraft is fully enclosed, with a very comfortable seat, and lots of room inside for maps, camping gear, etc. All unloaded up it still comes in under the 300 kg for 95.10 and really demonstrates what a great potential this category has for an economical aircraft that can still go places. Now, with another 300 hours of coastal flying without missing a beat, it's time to go travelling.

Roma has a pump with mogas right on the field, so it's an easy fuel stop. Scoff a meat pie, empty the 'comfort' bottle, and head on out - as soon as the Prime Minister gets out of the way in his VIP jet. He's been up here to promise the farmers some rain, and now he's off to promise something else somewhere else, so I had better not get in the way of such important business.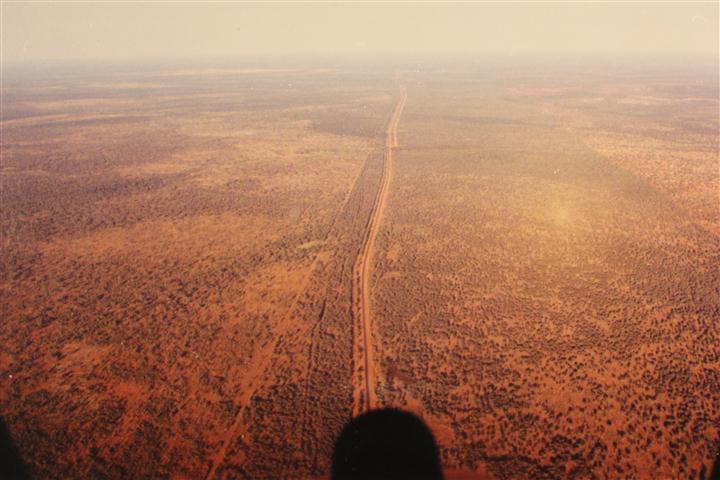 The cultivated paddocks are soon behind, and even rough clearings are getting scarce. By 50 miles before Charleville there are no clearings at all anymore; this is the start of mulga belt. Cruising at 4900 feet, the road is the only option now - it looks quite narrow from up here, and quite busy. This is 'bunyip country' ( we don't have tigers in this country, but we do have bunyips down there, so I think the term should be changed) was the most worrying section of the whole trip. The big Charleville airfield sure is a welcome sight. Luckily someone is at the local Aero club, and there's a drum with some fuel to spare. Otherwise it's a long run into town to a service station. Still plenty of daylight, but it would mean flying straight into the sun, so I camped on the soft lawn of the flying club. In the evening, local astronomers set up telescopes near the airfield and give visitors a look at the heavens.

Away early for Quilpie. Still solid mulga country, but at least the road is deserted now. The country is opening up as I near Quilpie. Don't really have to stop here; I have enough fuel to make Windora - if there's no headwind, but if so, there's no alternate's along the way. Quilpie has a fine, deserted airfield right beside down. By taxing to the end of the runway, climbing a fence, past stockyards, negotiating with the dogs belonging to the railway workers, and over the tracks, it's only about 200 m to the fuel depot. A meat pie at the bakery then away.

West of Quilpie the country really opens up - lots of grader tracks and claypans, so flying lower and enjoying the scenery. Landed at Windora just after the scheduled RPT departed. A woman was mowing a tiny patch of lawn around the terminal as I unpack my jerry cans to go a couple of miles to town for fuel. She finished mowing and then turned on a sprinkler to grow the grass again, then jumped in her 4WD and headed into town - no offer of a lift…. I carried the jerry cans out to the road and the first car to pass gave me a lift. When we got to the petrol station her 4WD was there! It seems that's also the agency for the airline. The fellas who gave me the lift were 'snowbirds' (retired Victorians migrating from the southern winter), and they had lots of time to spare. So they drove me out to the strip again. They hung around, envious as could be, as I packed up. I encouraged them to find a CFI and start training when they get home, but they lamented that they were "…too old and had missed their chance…". Well I guess if they think that way then it is too late, but I certainly don't want to sit around all my life, and then spend old age in regret.

Flew away into the afternoon sun, to the ruins of the old J.C. Hotel. No airstrip here, but did a careful precautionary then set it down. My first out landing, what a buzz! Had a good fossick around all the old mementos. The walls were made of rammed earth, in the mid-1800's, and only the bases still survive. The remains of an early truck with contracting band drum brakes, a graveyard with marble headstones dating from 1894, along with more recent graves marked only with old steel fence pickets. Another story of fading prosperity and broken dreams. Millions of old-style beer bottles; a cause or just a symptom of the decline??? I camped on the site, but no ghosts came to visit.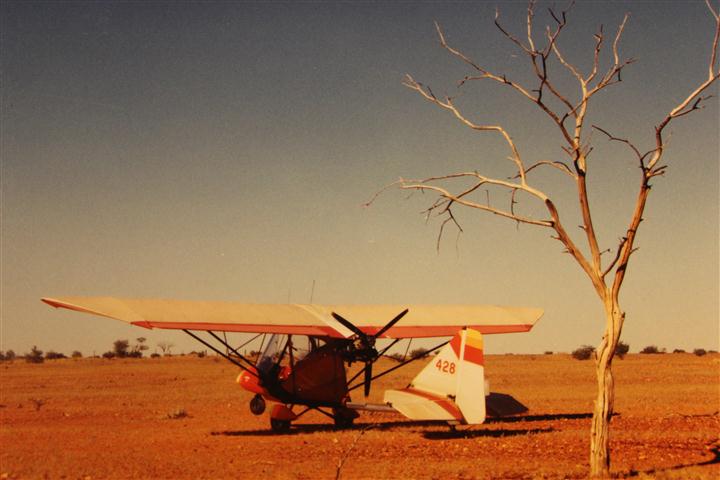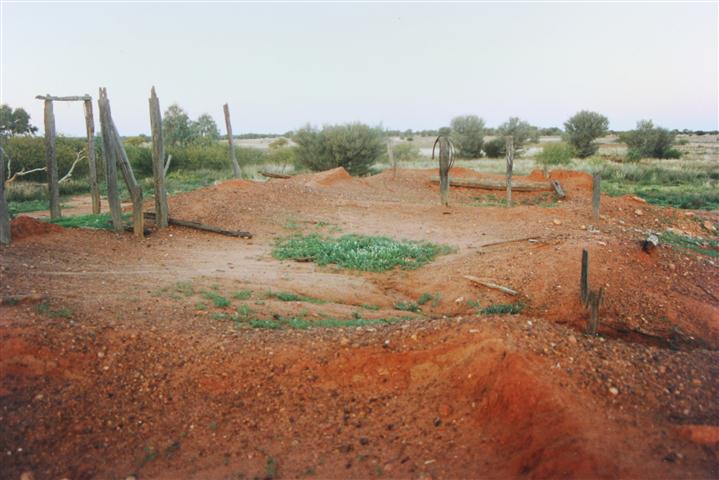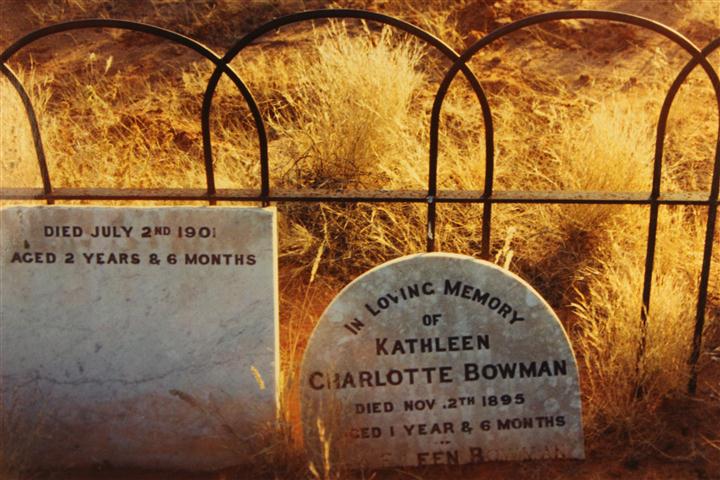 Some very sad stories of no medical care out there in those days. No Flying Doctor.....


Next morning I walk the take-off run carefully, picking up any of those sharp, twisted mulga roots that would be such a danger to a tire, or maybe flipped up into a pusher prop. The take-off would be would have to be straight into the rising sun so not much visibility, so better check it out well before hand. Up and away, nearly blind, then a turn to the west and the golden early light makes the country look spectacular!

Lots of open country now - it's all one big airstrip for a little aircraft like this. Flew hither and thither, exploring the country and checking out waterholes and bores. This sort of flying sure confuses dead reckoning navigation, but the road is to the north, and curves around in front, so it won't be hard to find.

Landed on the long the gravel strip right out the back of the Betoota pub. Tried to taxi around the petrol pumps, but gate post in the way. The publican and said, "Why didn't to land on the road, everybody else does!" This is a fair dinkum outback pub that really deserves another visit and a stop over. I have a feeling that a night spent there would add some more memorable stories to any repertoire.

Approaching Birdsville was a bit of a tense time. The AIT supplement warned about the heavy traffic in circuit and stressed, "... At 10 miles out reduce speed to less than 120 kts!...", But the radio was completely silent, (was I on the wrong frequency???). I don't enjoy mixing with high-speed traffic at the best of times, but this was ominous... When I got in sight of the airfield, the reason was clear - it was deserted - I was the first aircraft to arrive!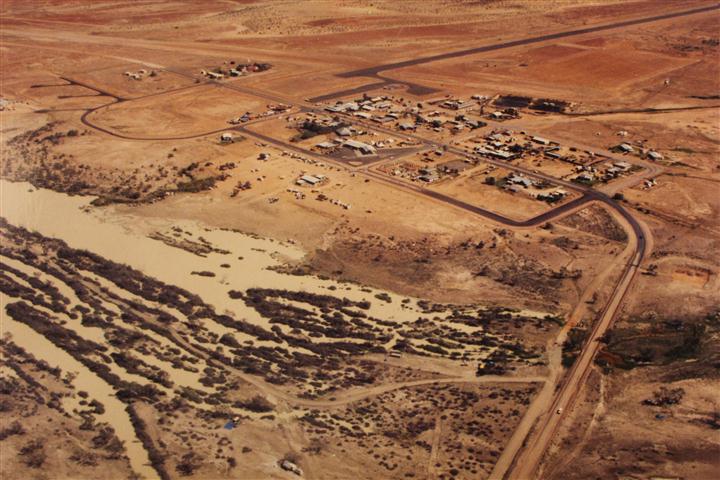 The vast, empty, dusty, parking area looked a bit lonely, so I flew on out to 'Big Red', the highest sand dune, and landed on a claypan on the western side of it. Now this is the sort of adventure I'd come for! I like to think of my little aircraft as a high clearance trail bike, and now it was proving its worth many times over. I was just walking over to climb the dune when three four-wheel drives rumbled in from the Simpson Desert. I stuck out my thumb and hitched a lift to the top; the most unusual ride that I've ever hitched! As we visited on the top of Big Red, one of the drivers demonstrated his GPS, and convinced me that I really do need one. I enjoy conventional navigation, but out here the distinctive features are few and far between, and an error could be more than just embarrassing, so I'll have one next time.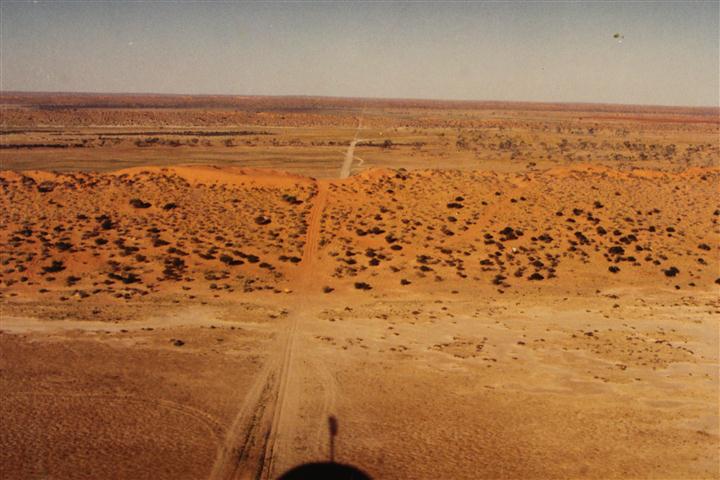 Next morning it was blowing hard from the NW, so not enough fuel reserve to make it to Poepell's Corner, so headed back into Birdsville and join the action. And what a lot of action, it was! Normally I avoid big booze-ups, but this was different. A tremendous a lot of drinking going on, but all in good humour. The only fights I saw were in Fred Brophy's boxing tent, and at the cue for the telephones. By midnight, the whole street was deep with empty tinnies. At 4 AM a big street sweeping machine roared in and sucked them all up. It's a memorable sound, thousands of cans clattering around inside that giant vacuum cleaner! I was parked on the tarmac right in front of the pub, so I heard it all in living stereo.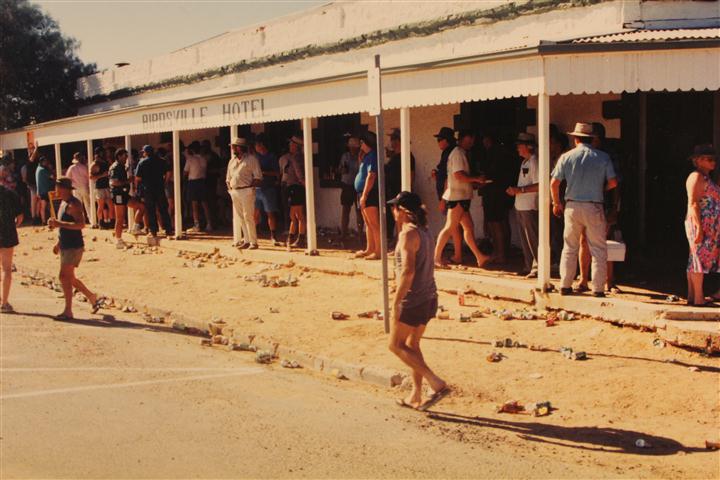 It blew 15 kts northerly all that day, so I stayed tied down to the cables on the tarmac in front of the pub. This was supposed to be just for the guests at the pub, but the ground in the parking area was too hard for my pegs, (this was before Screw-Its), so I claimed the first-come-first-serve, and stayed on. Lucky I did, because that evening when I came out of the boxing show, the breeze had shifted to a southerly. By the time I turned the aircraft around, the street lights disappeared in a haze of dust, the sand blew everywhere as a southerly buster the roared through. I hesitate to estimate wind speed, but to blow that much sand that high, it was really howling.

The aircraft was rearing back and lifting the cables a few inches, increasing the angle of attack even more – creaking and groaning, something was going to break. So I lifted the tail into a cruising attitude, and it immediately it settled down. Then an ultralight flyer, who had come by road, saw the dilemma and came to help (I forgot your name mate, but thanks a lot for your help!). He held the tail up while I climbed into the seat and tied the stick forward. Then he could let go and the aircraft stayed happily at this attitude. Now the aircraft had no tendency to fly off at all; the fabric on the bottom of the wing was slack. Of course, this is because this aircraft has that excellent landing gear arrangement that is both tricycle and tail dragger, with the mains right at the CofG; a pure tail dragger would be too heavy in the tail to rise like this. So I spent the night 'flying on the ground' - lucky this is such a comfortable seat. Actually, it was at least as comfortable as a 747 seat, without having to compete for elbow room! That experience showed me that I needed much better tie-downs - can't always count on having cables. ' Screw-Its' are a direct result of that wild night.

While parked at Birdsville and talking to GA fliers, the first question was always "…How long did it take you to get here?...". When I answered, 17 hours, they seemed appalled at the thought, and considered it to be a feat of endurance, but really it was in 17hours of pure delight. All those GAs going straight through at 8000 feet, missed out on all this fun and adventure. Really, this aircraft shouldn't be compared to high-speed fixed wing aircraft at all, but rather to a helicopter. With a landing/takeoff roll of only about 50 m, and great climb-out performance, it's not much short of the capabilities of a small helicopter. Dick Smith knows how much fun it is to explore the outback in a helicopter - I was getting that same fun, for a fraction of the cost!

The little aircraft attracted a lot of interest, and I'm sure that several of those visitors, especially the motorcyclists, will go for training when they get home and maybe get hooked on ultralights.

It turns out that Sunday is the really heavy traffic day, as everyone heads for home, so I left the action on Saturday. Slim Dusty sings nostalgically of, "... mustering on the Arrabury Plain…" (That's a bit north of Innaminka.") Now here I was, cruising over it at 500 feet AGL. There'd been a bit of rain recently, which brought a flush of colour to the ground, and in the late afternoon light the scene was really splendid. My normal cruising speed is 50 kts, but now I was throttled back to 40, just to enjoy the experience for longer!

At Innaminka the ground was too hard for pegs, and so I tied to a fence, Innaminka has free public, hot showers and laundry facilities, much appreciated. While laundry dried on the fence, I flew out to check out the Coombie Lakes, the big waterholes along the Cooper, and Moomba gas fields. Refueling at Innaminka I talk to more four-wheel drivers about ultralights, and by the excitement, I reckon some will follow-up and go for training as well.

The DIG tree already had a couple of four-wheel drives camping there, so I flew back down the Cooper Creek to the to the Qld/SA border and found a claypan. This border is really distinctive from the air - there are two parallel dingo fences disappearing into the distance. I'm told there was some political squabble about funding between the states, so each built their own fence!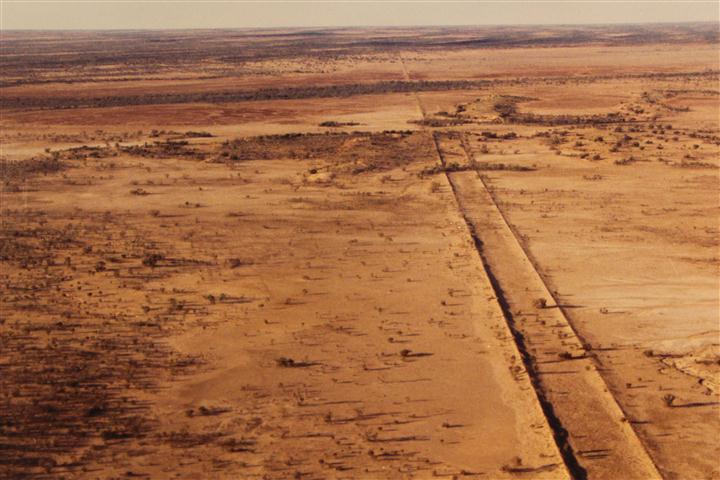 Even with the machinery of today it would be a big project, but imagine the effort needed to move all the men and materials though that difficult country in those days - and then double it. What a make-work project. Maintenance was abandoned long all, then weeds blown against the wire blocked the drifting sand, so now we have two perfectly straight sand dunes to show for all that effort. It sure is great having a versatile little aircraft like this to explore this unique history! A faster aircraft would zoom by high overhead and miss it all.

I rolled out my sleeping bag beside the fire and had another really comfortable night. Self-sufficient camping by ultralight means traveling light, but that's the best way to go anyhow. All you really need is a bedroll, a billy, and a bag with some Tucker. The swaggie used to carry it slung on his shoulder, but now it seems that even a large four-wheel drive isn't enough for many travellers, so you see stuff piled on the roof or pulled in a trailer - what a load to carry around, and pack/unpack!

It's so much easier to travel light. Modern backpacking gear is so lightweight that I can also carry a self-inflating mattress - the swaggie of old wouldn't believe the luxury! The water is the heavy bit. I carried 8 L, but never needed to open the 5 L container. It's so much easier to find waterholes and bores from the air them from the road. If there are cattle or sheep down there, then there must be water not too far away, and with an aircraft like this, any bit of vehicle track makes a landing strip.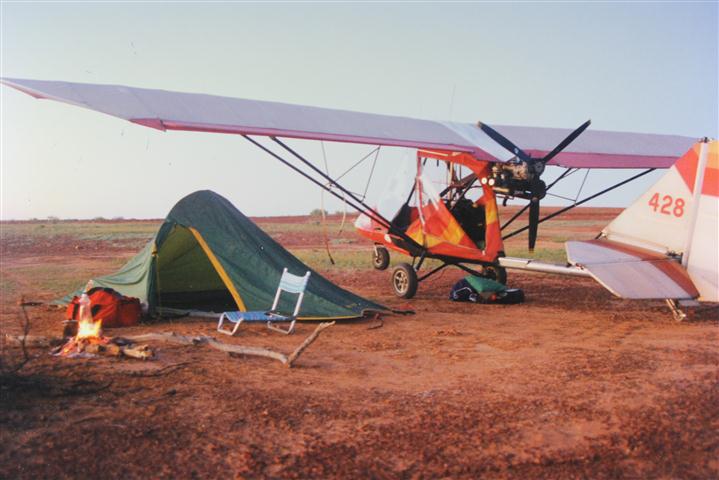 Speaking of outlandings, this area has lots of flat, dark brown plains that look fine from the air. But get right down to have a closer look, and they turned out to be gibber plains. That is, rocks, continuous rocks, lots of them as big as melons - the sort of stuff that would tear the wheels off any aircraft. Instead, look for the light gray claypans – they're excellent landing areas. Stay away from the white salt pans! I knew to be wary of them, but feeling cheeky, went to skim one and check it out for myself. I was right out near the edge of the pan, and was just going to touch and go, but when the wheels touched there was a sudden deceleration and a sickening feeling that I'd blown it.... Full power and plowing through that soft mud... Only saved by the massive thrust of that big slow turning prop. Whew!! Back home, Artie Hearn, who spent many years flying an Auster in and out of the remote corners of this desert, told me a much better way to touch and go. Fly a few inches above the surface at an airspeed, well above best glide speed, then rock the aircraft to touch one wheel at the time - it's a lot easier lift one wheel out of the muck than to lift the whole aircraft. Then go round again and have a close look to see what marks the wheels left. I left a couple of long furrows in the mixture of salt and mud.

Next stop was the Noccundra pub. There's a big gravel strip and a taxiway right up to the fuel pumps. This old stone pub dates back to before the turn-of-the-century, and used to have a great character, with little changed since those days when I was here only a few years ago, but now it's been renovated into a boutique pub, like you'd find in one of those arty crafty tourist towns. In the lounge bar, a large TV set was tuned to weight-loss aerobics on daytime TV... Is that progress?? Just a few years ago, they were celebrating the installation of their first telephone!

The next stop was meant to be the Yowah opal fields, and to have a soak in their steaming hot artesian bore water. I'd remembered an open area near the shop and petrol pump that would do for landing, but since then they've got electric power, and now there's wires everywhere... Progress. So on to Eulo. We're now back into really thick 'bunyip country', so Eulo is a really welcome island in the mulga. And Eulo really is worth a stop if you're going this way. It looks like a tidy town winner, which is most uncharacteristic for small towns out this way. The airfield parking area is only a short walk from the fuel and the pub. The pub has a colourful history from the opal mining boom days, and lays on a really good feed these days.

Next morning I headed east the same time as a fast-moving squall. Paced that storm for the next three hours at 50 kts. Looking behind just to be sure it wasn't closing in, but it stayed south of the road, while I stayed north of the road. Everything was fine until just before St. George, where the road takes a jog to the south, putting the town right in the path of the storm. Full throttle at 65 kts I was just able to make the airfield and taxi directly into the Jones Ag Air hanger before they closed their doors. I guess it must've looked pretty risky and dramatic from down there, but I knew it was still all clear to the north, so I could've turned and gone that way any time and let the storm go by. Must always have at least one good option...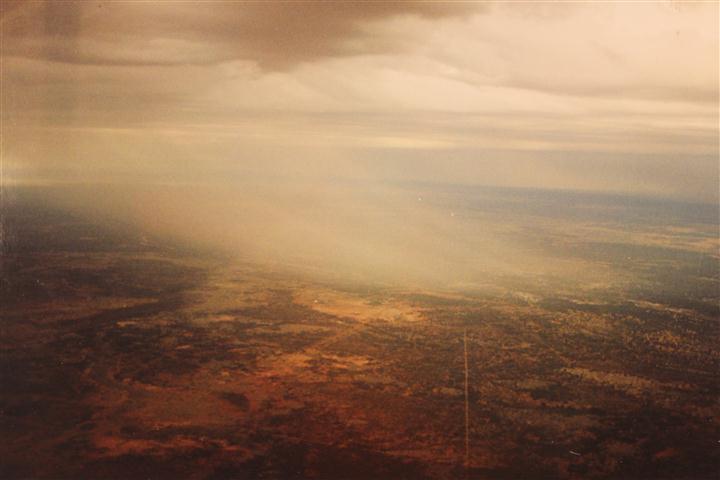 The last night was in a real bed at the Cobb & Co. pub in St. George. I had intended to go straight home, but the fast-moving front caught up at that point. So instead, I spent another memorable evening, this time swapping yarns in a warm and friendly pub, with four-wheel drivers also on the way home from Birdsville. If I'd been in a fast 'tinnie' I'd' have been home already, and back into the hassles of everyday life, so I was thankful to be stranded here one more night. Next day I rode the strong SW tailwind, and all too soon was back home. Back to home base at Kilcoy, SE Queensland.

……………………………………………………………………………………………………………………………………………………………

I wouldn't have missed that Birdsville trip for anything, and what's more, I wouldn't trade my little 95.10 aircraft for any of the flash machines out there, regardless of cost. They just can't get me into the places I want to go and do the things I want to do.

Radio communications were surprisingly good all the way. The tiny handheld Icom VHF, properly installed and hooked up to a good external antenna, gave dependable contact with flight services while at altitude. With the amount of traffic on the area frequency I'm sure I would have been able to contact another aircraft from the ground if necessary. I reported to friends back home, whenever a telephone was available, and kept a de facto SAR time going that way. I also filed SAR times with Flight Services on a couple of legs. But I put most value on the contacts with local people along the way.

I carry an ELT - just in case, but, surprisingly, most usable of all was the UHF radio. With truckies, four-wheel drives, road crews, fencing crews, and station vehicles, including a station Cessna, I was nearly always in touch with those locals who would've been the most useful in an emergency. This may seem like a remote and uninhabited area to you, but it's home for these people and just as familiar to them as your area is to you. They have their ways of staying in touch while working in this country, and know how to move around it easily, so it's this network that I want to be in touch with. I used to work in oil exploration, and I have had to find my way into many remote areas, from the Arctic to the Amazon. (There's a saying, "Join an oil exploration crew, and see the swamps and deserts of the world.") In most cases I've found it much better to arrive in the area and then seek out the local hunters/fisherman/farmers/traders, and use their knowledge and means of transport, rather than to try to plan it all from afar. Same goes for here. Navigation was usually just follow the road. The main roads mostly run directly from one fuel stop to the next, so it made good sense to stay near them. The dust clouds from the four-wheel drives bashing away over the corrugations made me glad to be traveling in a real high clearance vehicle.