Map
This map covers both stories 'No Crocs' and 'Flying Backwards'.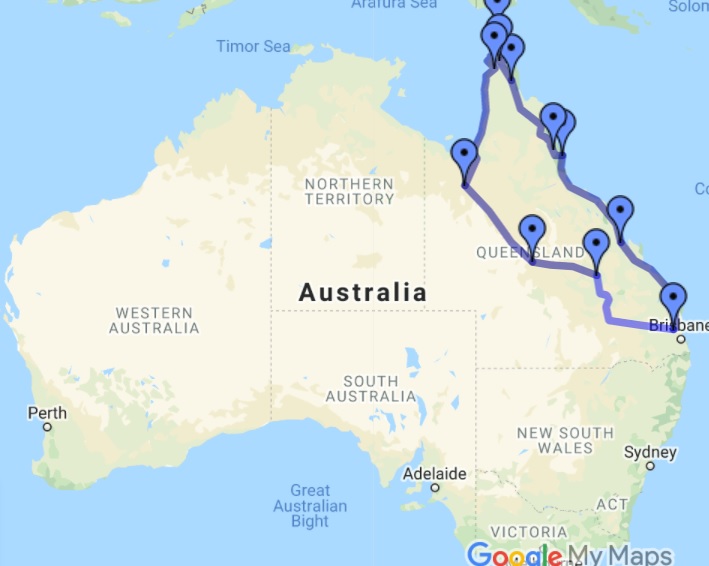 No Crocs, No Barra, Lots of Bull


....with that tingle of excitement that comes from heading out over the horizon......
....what a great feeling!
August 2005
Ever since I'd flown a Bantam to the Quarry near Archer River, Cape York Peninsula, for John Armbrust a couple of years ago, I've been wanting to get back up there for a visit, and explore some of that wild country with him. So when he rang to say that Sam and Harry were flying their X-Air up from Mossman, along with a ground crew of old mates, I just had to be in it.
My new

Savannah

was at that 'almost finished' state that can go on and on for ages, so this was a good deadline to finish it off. I flew off the 25 hours in 7 days, and I think that's a good way to do it – really get to know the aircraft intensively. And not just flying around the area running up the time – I did 140 landings in that time, trying all sorts of approach and set-up and wind, and I was sure glad I had done all that when I faced some challenges up north.
Hans had been lined up and eager for this trip for some time, and had his Zenith CH-701 ready to go. You sure don't have to persuade Hans to go on an adventure like this, just watch out you don't get bowled over by his enthusiasm! Bill had finished his Savannah just a couple of months before mine, and had only recently completed his x-country training, but had done lots of intensive flying in those first 50hrs, and developed a real good feel for aircraft handling and landing, and a solid grasp of real-life practical navigation, so he was ready. We're all semi-retired so could arrange the time away, and had worked together building these aircraft, and get along together really well, so it was the best group you could find for such a trip.
So one fine morning in August saw us taking off from our home airfield at Kilcoy, SE Qld. and headed north, with that tingle of excitement that comes from heading out over the horizon – what a great feeling!
There's some fine scenery up that coast between the mountains and the sea, then around Mackay airspace. But don't go into Proserpine, that's just for the big jets that service the Whitsundays…… Then around behind Townsville airspace and a stop to transfer fuel at Starke Field, which is sadly quiet now….. (Update Dec 08 - I hear that airfield now has new ownership, now named 'Ace Field' and is once again active and welcoming.) Then on to Ingham which is an excellent place to fuel up, good friendly service right on the field, and walking distance to town.
Next is the spectacular scenery of
Hinchinbrook
Island
and the Passage, with the mangroves and floating oyster pens and prawn farms. Flying is such a great way to see all this - from the road you wouldn't see any of it! The bush block that I used to own at Cardwell is now a suburb, and the muddy mangrove creek where I kept my little mackerel boat is now a gleaming marina, with pretentious mansions all round – what a change from the fibro shacks of those days….. Tully airstrip is right next to town and very tempting for a stopover, but there's a couple of dark clouds around, so it'll be a wet night here for sure ..… On over
Mission
Beach
and
Bingil
Bay
, and over the spectacular
Mourilyan
Harbour
with it's very narrow entrance, but somehow a big ship is in there loading sugar – flying sure is the only way to see these sights!
Then into Innisfail and welcomed so warmly by Carlo Prete. He's a real 'blue shirt' flying school (as distinct from the white shirt and epaulet types), but don't let that fool you, he's highly qualified, and an excellent 'no-nonsense, better-get-it-right' instructor and aircraft engineer, not to mention rock band guitarist and guitar maker. We camped in his hangar and ate and drank from his fridge, and thoroughly enjoyed Carlo's and Chris's hospitality. (Chris is an ex bank executive who took early retirement, got loose from marital bondage, bought a Jabiru, and now lives happily in Carlo's hangar – real smart moves I reckon.)
From here the best track north is to head up onto the Atherton Tableland at Milla Milla, because it's very difficult to get around between Cairns controlled airspace and the mountains. But showers were streaming in from the sea and bunching up against the range, as so often happens here. Carlo pointed out 'The Nose' as they call it here – a distinctive point on the flank of Mt. Bartle Frere – when you can see that you have 3200 ft cloud base and enough to get over the top. We had to wait until late afternoon to get away, and then it was a tense ride, climbing up a wild rainforest ridge, just under cloud base, and looking back to be sure that it wasn't closing in behind. So it sure was a welcome relief when we were up over the first soft green paddocks of the Tableland, and the cloud base rising as soon as we got over the escarpment.
Atherton airstrip had a wall of trees half way along the strip, and a very strong crosswind, so Bill and I landed long. Hans didn't get the message so had a really wild 'bronc ride' of a landing approach, but in his usual cool style rode it out and set it down just fine. We were just setting up tents, with the prospect of a wet night ahead, when Roly showed up. He lives right next to the strip and had just finished building a Savannah! Then he took us over to see DJ, who's scratch-building a 701 …… it's a small world! So we all had heaps in common, and lots of info to share while we drank vast quantities of DJ's VB. Then we camped cozy and dry in Roly's shed with sound of rain on the roof. Hospitality to be fondly remembered, and we just hope to be able to return it some day when they fly down our way.
Just north of Atherton the countryside changes abruptly from lush green to dry bush – from the air you can see the dividing line distinctly – it's quite remarkable. Dodging showers and more 'bronco flying' in the lee of the mountains around Mt Molloy, then up the road to Lakeland Downs.
....now it's thick 'tiger country' as far as the eye can see...
Now it's thick 'tiger country' as far as the eye can see, and not one spot any better than another for an emergency landing ……. This is the way it will be all the way to the Cape. The main road up to Weipa is usually wide enough to land on, but most other roads and tracks are overgrown. The beaches up the east coast are mostly a better bet, but not always possible at high tide or along steep rocky parts. It's certainly not an easy feeling if you've always been careful to have "somewhere to go" – much of the time up there you just have to run on faith………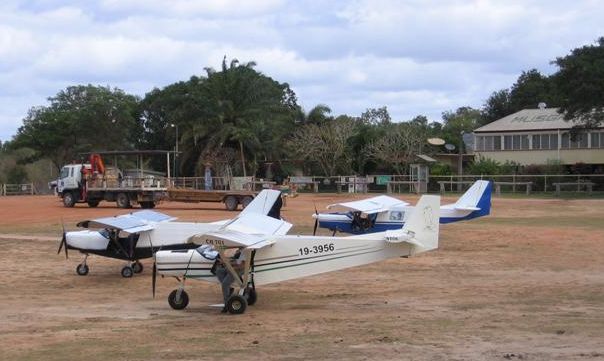 At Musgrave Roadhouse you can taxi right up to the pumps, but only for unleaded or diesel, and extra good hamburgers! We had a drum of premium waiting for us that neatly filled our tanks and jerry cans. The Savannahs have 64 litre tanks and the 701 has 85 litres, and we each carried 2x20litre jerry cans in the passenger seat. At 17-18 litres/hr for 75kts this gives 430 nm range, which was adequate. (That fuel consumption shows that we still had slats on......)
It was really good to land at the Quarry again and sit on John and Gloria's verandah and catch up on the news. Sam and Harry flew the X-Air in, and their ground crew convoy arrived. John and Gloria's daughter Debbie and son-in-law Kevin and family were already there, setting up a new crusher in the quarry. So all up they found beds and catered for about fourteen I think it was – no problems.
For a couple of days we ferried ground crew passengers to the coast for sightseeing, and of course to look for crocs – Bill saw four, Hans saw one-and-a-half, I saw none….. We landed at the Iron Range Airfield (now marked Lockhart River), which had an active WW2 history, and rendezvoused with the ground crew to change passengers for more sightseeing around Portland Roads. On the way back John A in his Bantam got blown off course by the strong x-wind and then ran low on fuel pushing back against it, so had to land on the Lockhart River track. It's mostly overgrown, but there was a wider spot where the road had been repaired recently - he knew about that because he had done the work! It was still a marginal strip, with no chance of a go-round, but he set it down just as neat as could be. Then waited until the ground crew, on their way home along the same track, arrived with fuel. The Bantam takes off really short and climbs really well, so he was able to get out of there again and fly back to the Quarry – all in a day's adventure for John.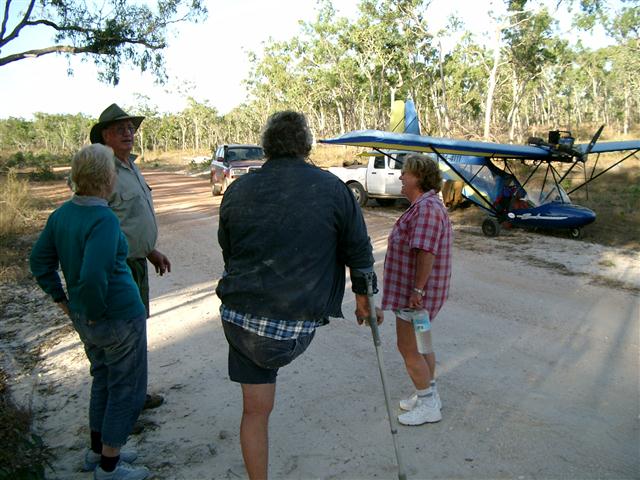 Hans flew Kevin over to Wolverton Station to help load a bunch of wild bulls that they'd caught. These bulls were several years old and had never been handled before they were knocked over by a bull-catcher, trussed up, branded with a red hot iron, and penned up in the yards ready to be shipped to the abattoir, so they're really in a bad mood…... Hans soon found out that when one of these fellas looks you straight in the eye, and blows smoke out its nostrils, you'd better get up onto the top rail of the yards just as quick as a willy-wagtail!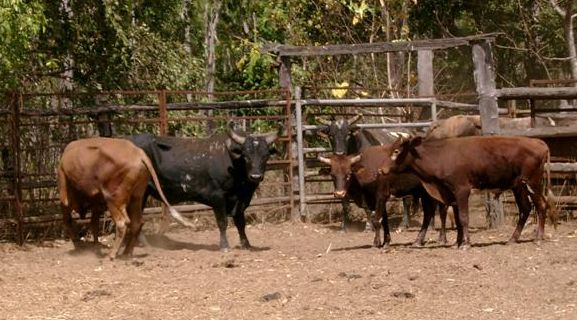 Then the whole entourage moved farther north to Bertiehaugh Station, not far from the start of the infamous 'telegraph track'. The owner, John W flys a Thruster, and son Ian will fly a Piper in there as soon as their new strip is ready. The homestead is a large bush-timber shed, open all round, and just perfect for this climate. The surprise is the computer with satellite broadband, faster than mine at home! Also satellite TV and direct dial telephone – oh, it's hard to get isolated these days. There's supposedly lots of barramundi in those rivers, but we couldn't catch any this time of year…. Just found a dead, and very smelly, croc….…


Fish not biting.......
They expect a lot of wind up there that time of year, and now a really big high was moving slowly through the bight, and pushing a strong ridge up the coast, so it was going to blow like hell for days. It would be way too much for the Bantam and X-Air, so we went on our own again. Over to the brilliant white sand dunes of Shelburne Bay, dodging a few fast-moving showers, then north up the coast with a raging tail-wind. Bill's GPS recorded 111 kts at one point - with 75 kts indicated, that's quite a tail-wind!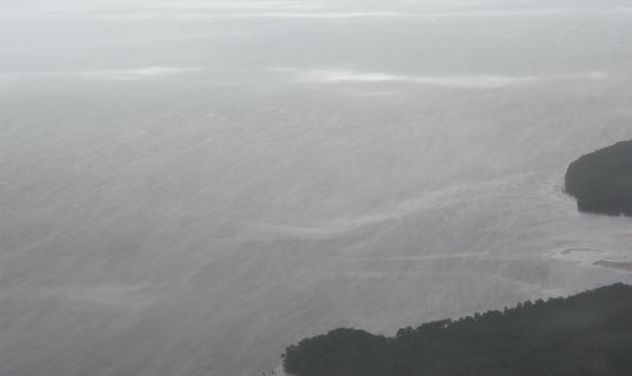 When the spindift looks like that it's really blowing....
So it wasn't long at all before we were over Albany Passage and the ruins of historic Somerset, then a few minutes more and there was the tip of Cape York, the most northerly point on the Australian mainland! When we landed at Horn Island someone asked where we were headed from there – the only answer could be, "....back home, can't go any farther than this….".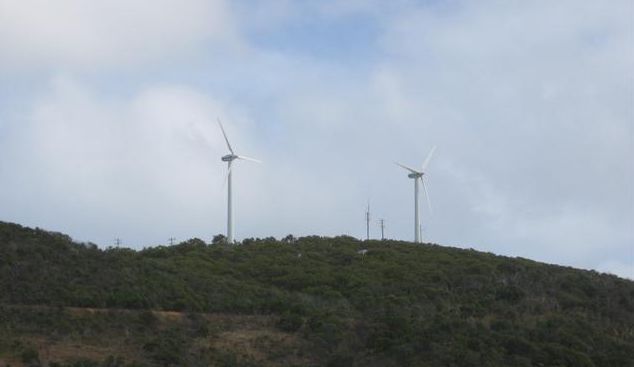 The wind generators on Thursday Island sure get plenty of wind......
To be continued – 'Flying backwards'.
..................................................................................................................................................